Rising sea levels and more frequent extreme weather events will challenge surf life saving club infrastructure and present new hazards to the beach environment.
For every 1cm of sea level rise, we expect 1 metre of sandy beach erosion (The Bruun Rule). At current rates, we could lose 3m-4m of sandy beach per decade, with the rate escalating. 2015 Australian data suggests we should plan for 0.3-0.8m sea level rise by 2090, that corresponds to 30-80 metres of beach erosion. Most surf clubs are built on sand dunes and at risk of damage by erosion. US authorities recommend coastal infrastructure factor in a 2-2.5m sea level rise by 2100 (thats 200m of sandy beach erosion). A paper in Nature Climate Change has estimated that half of the worlds sandy beaches are at risk of disappearing by 2100.
A 2011 SLSA supported study found 63% of clubrooms are situated in an 'instable' location and are at risk of erosion.

Elrick, C., Dalton, L. and Kay, R.C. 2011. Impact of Extreme Weather Events and Climate Change on Surf Life Saving Services: A Road Map for Adaptive Action, report prepared for Surf Life Saving Australia
Local councils in WA are required to generate Coastal Hazard Risk Management and Adaptation Plans (CHRMAP). This includes decisions on what land to defend and what land to abandon to the sea. Residential properties and main roads are shown at risk by erosion between 2065-2115 in the map below from the City of Joondalup. All surf clubs in WA should ensure they are consulted in CHRMAP planning.
Implications for surf clubs
Club rooms and patrol towers are at risk of damage, land may be lost. May need to seek land further inland.
Loss of sandy beaches may lead to more hazardous beaches as rock is exposed, or temporary sea walls are washed away.
Loss of sandy beaches may preclude beach-activities such as flags, sprints. Perhaps these will have to be held at a local oval.
Sea walls will be installed in some places, at great expense, which will remove the usual beach interface and create new challenges for safely entering and exiting the ocean. Sea walls are already being installed at some WA beaches
More hazardous surf: Global wave power is increasing 2.3% per year, since 1994 in line with sea surface temperature.
Loss of reefs: this will alter surf breaks and reduce storm protection afforded by reefs. At 2˚C warming 99% of coral reef will be extinct.
Stockton SLSC (NSW) 2020. Source: Newcastle Herald
Denmark SLSC (WA) in 2021. Source: ABC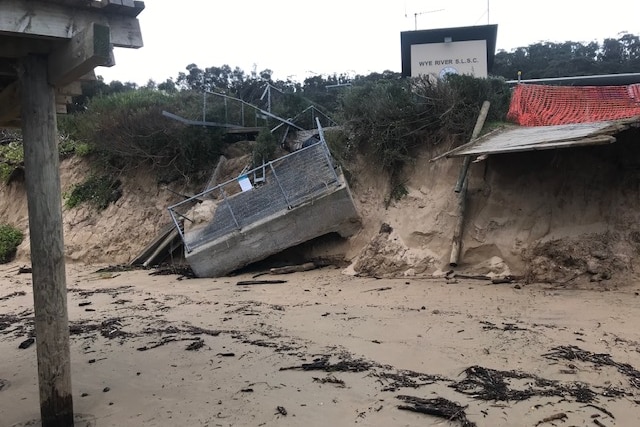 Kingscliff SLSC, NSW (Source – State of Environment Australia)
See also – Byron Bay 2020
Further reading
Climate Change Risks to Australia's Coast (2009) Department of Climate Change
Elrick, C., Dalton, L. and Kay, R.C. 2011. Impact of Extreme Weather Events and Climate Change on Surf Life Saving Services: A Road Map for Adaptive Action, report prepared for Surf Life Saving Australia
Australia State of Environment (2021) – Coasts, Climate Change